Immagine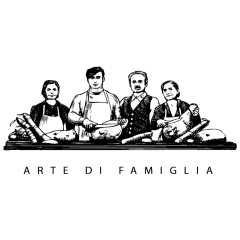 Capocollo di Martina Franca
Typical coppa of the Apulian lands
Naturally smoked in the "trulli"
Immagine
Very high quality product typical of the Apulian cold cut preparation tradition. From the coppa of Italian pig raised in the wild in the green hills of the Itria Valley. After trimming, it is seasoned with salt and black pepper, massaged, left to rest and soaked in vincotto. This is followed by stuffing in natural casing, drying wrapped in cotton or linen cloths and the particular smoking with thyme and the bark of the fragno, an oak typical of Puglia. Finally, the seasoning lasting at least 3 months inside the trulli, the beautiful rural buildings that distinguish the Apulian landscape and ensure a cool and dry environment, ideal for the correct maturation of the meat. A unique product that contains the intense fragrance and taste of the Mediterranean scrub of the Murgia. Ideal to be combined with fresh figs.
Gluten-free. Without milk derivatives. Only natural flavours.
Average weight (kg): 2
Seasoning (months): 3
Immagine