Immagine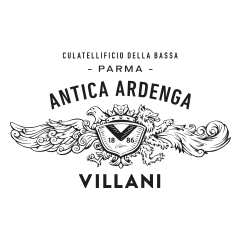 SAN SECONDO COOKED SHOULDER OF HAM
Exclusive product of Parma's low-lying areas
Immagine
This ham is made using the whole shoulder, including the neck, of pigs born and bred in Italy. The meat is left to rest in an infusion of water, salt, and the traditional natural seasoning for at least 15 days, then placed in a natural bladder casing and trussed with string by expert hands. After being left to dry for a short while, the meat is cooked slowly. The result is a mildly flavoured cooked ham, with a rich aroma and a tender texture due to its marbling. It is a local delicacy, cured according to the traditions of the Po riverside communities, which is only produced in Parma's low-lying areas. A unique product from worthy origins.
Tips for use: can be eaten either hot or cold, hand-cut with a knife into thick slices. To serve hot, place the whole product (still in its vacuum pack) in a pot full of boiling water and, leave to simmer for about an hour to an hour and a half. Once out of the water, remove the meat from the pack and then cut off the natural bladder casing and hand-cut the meat into uneven slices. Serve steaming hot. If you do not intend to eat the entire sausage, we recommend you cut it beforehand (with a knife) into the number of slices required, then place the slices in a vacuum sealable bag and seal it. Next, cook the meat by placing the bag in boiling water for 5 minutes.
Gluten and dairy-free, no added glutamate. Only natural flavourings.
Average weight:(kg) 4.5 (half)
Packaging: vacuum-packed
Immagine