Immagine
Madame
Seasoned Culatta
Immagine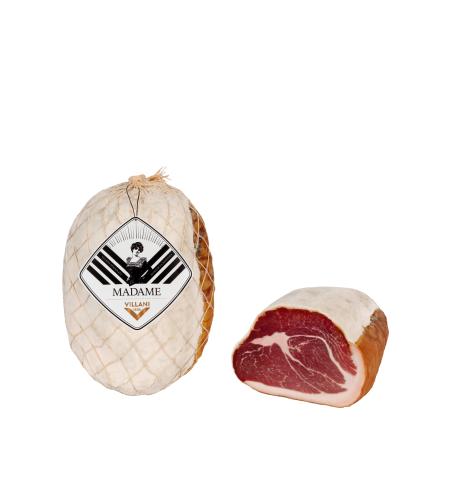 Noble fruit of the cold cut preparation tradition, from legs of pigs born and reared in Italy. It is obtained from the finest part of the ham, characteristic for its round shape and processed following ancient and stringent methods. Salting with sea salt only, massage and slow seasoning in humid cellars for up to 18 months in the top-of-the-range version. Its ruby colour translates into pure transparency of the slices. An aristocratic cold cut with a unique aroma and a delicate and distinctive flavour. A truly prestigious product.
Gluten-free. Without milk derivatives.
Average weight (kg): 5,8 – 6 – 6,3
Seasoning (months): 10 – 16 – 18
Also available in the boneless version (4 kg), carefully cleaned with a knife and trimmed.
Immagine